Blog
/ First test ride at half and full power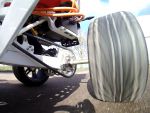 First test ride at half and full power
Posted on 1 February 2015 at 10:09 pm (CET)
Posted on 1 February 2015 at 10:09 pm (CET)
So yesterday I was finally able to have a test ride on the quad bike after a bit more than 2 years of working on it. It was a really great experience. Even though I started with very little power I already really enjoyed it. I didn't test it anywhere close here but at the place where my sister works and on a short road. So I had to get the quad bike on the trailer here at home first. It all went well but I'm going to make some modifications to the ramps since I don't think they're very safe. But after half an hour the quad bike was stuck on there and I could drive off.



Thankfully I also arrived safely at the place where I could test.



Not too long after that I rode the quad bike off it and started testing at half power. Looking back at it I'm not even sure if that was actually half power, I think it was more like 1/8th of the power. I didn't see more than 50 A while 200 A should have been possible at half power. But it was pretty fun already and a good way to get to know the quad bike a bit.

Then I changed the controller settings a few times to be able to get full power. The acceleration did feel a bit faster but on the gauge I still didn't see much of a difference compared to half power. Unfortunately during these tests the DC-DC converter passed away which resulted in quite an exciting moment. I was just riding around the corner when suddenly all power was gone, the rear wheels slipped a little. :)

Thankfully I was still able to continue after that since I took an extra 12 V battery with me. Placed this in the top case and connected it, it just barely fit. After that the quad bike worked perfectly again. But still I didn't quite feel and see the power that I actually should be getting. The top speed at that moment was around 45 km/h and the motor was also running at a bit less than half RPM. So I was pretty sure that something wasn't right. I even used my phone to check the speed with GPS and my sister rode her scooter right next to me. But the speed was actually right.

To be sure I checked the controller settings again. I just changed one thing and tried again. Right away when I took off I felt that it was all good now, I suddenly had much more power. So the controller settings were just wrong all this time, it was not giving the full power to the motor but holding back instead. I also did see on my gauge that it was going above 100 A now. So after that I lowered that same setting again and I was suddenly reaching 250 A. So much power suddenly, it was really amazing. I was just riding with a big smile on my face the whole time now. Also tried a bit on the short road again and the quad bike just kept pulling. I just had to get on the brakes every time I hit 60 km/h since the road wasn't longer. But I'm sure that 85-90 km/h is definately possible with the current gearing. And I wasn't even at full power yet so the acceleration will also only get better once I find the right setting.

After that I still did 2 quick runs on the lot but then I called it a day. The quad bike really has a lot of grip even though the ground was quite damp, also really nice to ride on. Was quite exiting too since it was actually the first time riding a quad bike and also the first time on/in an electric vehicle. But as it turns out I love both and I really cannot wait untill I'm allowed to go onto the roads legally with it. :D I just did notice that the tires aren't really that great, I'll be replacing these with some good quality tires soon.

But after this whole story you all just want to see one thing ofcourse and that's the video. ;) So here it is. In the beginning it might be a bit boring but in the end you can really see the difference in power. You can even hear it while there's not really much noise coming from it. :D


My sister also still filmed a bit. Most of it is at low power as well, just from a different view. The last minute is with more power but is pretty much the same as in the video above, but my sister was also standing in the same spot. :)
Unfortunately the onboard camera was already empty fast and the other camera's memory was also full quite fast so there's not as much footage with more power. But it'll be alright, maybe I'll try again soon and then not forget to take my laptop with me. Then I can see all the data of the controller while riding and see why exactly the full power is not reaching the motor.