Blog
/ Website upgrade - Now mobile friendly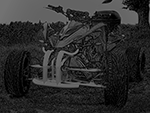 Website upgrade - Now mobile friendly
Posted on 7 September 2015 at 09:00 pm (CET)
Posted on 7 September 2015 at 09:00 pm (CET)
After a long time the website has been upgraded again. Desktop and laptop users won't notice much difference but for tablet and smartphone users the website will look a lot different now. Zooming and scrolling horizontally won't be needed anymore, all information will be adjusted to the screen that's being used by you. Or to sum it all up, a responsive design is being used now.

This design I actually wanted to use at the beginning of the website already but since I rather spent my free time on the project back then instead of on the website it just didn't happen. Since the project has been completed now I finally had some extra time so I still chose to change the design of the website. I noticed that even with the old design there were still a lot of mobile users visiting this site. Ofcourse I couldn't ignore this, now with this new design it really is a lot easier for the mobile users.

There's nothing wrong with the desktop/laptop version, so no changes there. But since it is a pretty big upgrade I did place 3 new images in the banner which are a bit more recent as to make it look a bit nicer again.

Soon there'll be some updates of the quad bike again, the weather wasn't really coöperative these last few days. But I have been able to do a few rides again and I was also finally able to collect some data on the road.